Congratulations!
If you were sent this page, you are the 2nd Place winner in the Ferretmom's Top Pet Site Contest.

Since tripod no longer allows linking, the award will vanish from your page in a short time if it isn't transloaded or uploaded to your own server.
Please help yourself to the 2008 Contestant award.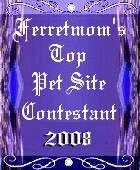 ~~~~~~~~

Please link this award to my contest page at http://ferretmom2.tripod.com/index-31.html