Congratulations!
If you were sent this page, you have won the Runner-up Award in the Ferretmom's Top Pet Site Contest.

Since tripod no longer allows linking, the award will vanish from your page in a short time if it isn't transloaded or uploaded to your own server.
Please help yourself to the 2004 Contestant award.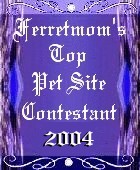 ~~~~~~~~

Please link this award to my contest page at http://ferretmom2.tripod.com/index-31.html