Contestant Award
Welcome to the Ferretmom's Top Pet Site Contest.

This special award is my way of thanking you for signing up.

Since tripod no longer allows linking, this award will vanish from your page in a short time if it isn't transloaded or uploaded to your own server.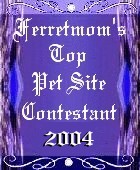 Please link the award to my site at http://ferretmom2.tripod.com/index-31.html

I have four other awards you can win by just clicking on the vote button that you received when you joined. For hints on voting, check out this page.Click Here
Good luck in the contest.
Carol (Ferretmom)