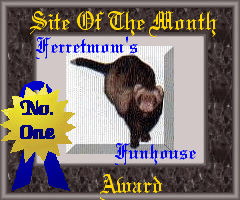 This award is presented once a month as a tribute of excellence.

Congratulations to our winners.

1999
Jen has just about every dog gif you'll ever need on her site along with helpful information about dogs.
The Dog Pound
2000
If you need HTML help or some great script for your site, check out glimermanns.
Glimermanns
1999
This is one of my favorite ferret sites.
West Valley Wuzzles
2000
If you like stories about ferrets, go visit Judy's Place. Scrappy's Big Adventure is one of the best I've had the pleasure of reading.
Judy's Place

1999
A great site for backgrounds and gifs. Congratulations Lady Oh, you have a fantastic site.
Lady Oh's
2000
Angels' Bridge is a very special site for anyone that has lost a pet. You'll find a chapel where your pet is entered with the date of it's birth and departure and a place where friends can e-mail the owner with condolences. There's a room that holds every animal that has been added to the chapel that will always remain on the site. You'll also find some beautiful poems and a message board.
Angels' Bridge

1999
Do you love ferrets? Well it's obvious Bill and Diane do. They have a wonderful site with loads of information about ferrets.
Zen and the Art of Ferrets
2000
What a great way to let people know how special a News Group is. My friends Katie and Judy made a site dedicated to our ferret news group and not only do they have a chapel, but also pages about every member of this wonderful group. Please stop by and visit this special site and while you're at it, visit alt.discuss.ferrets
The Alt.discuss.ferrets Offical Website

1999
Draac's is one of the largest gif sites on the web with classes for beginners in html, tables, Java Script and much more. This is where I learned my html, thanks Draac.
Draac's Gifs 1-2-3!

1999
Sam has a great ferret site here. You'll find photos, info on ferret mailing lists, new owner help, shelter and rescue lists and much more.
Ferrets In Need (F.I.N.)

1999
Claudia has one of the best link sites on the web. This is the place I always visit when I need some extra help with html or java script for my sites. Check out her other pages as well, you won't be disappointed.
Greyhound's F-4 Help Page

2000
Karen has a site with loads of graphics, lines, buttons, original backgrounds and 10 pages of tutorial sites. If you're building a homepage this is the site to visit.
Karen's Gif Depot

2000
Linda does a form of art called Scratchart and has a beautiful display of animals. Her ferrets look so realistic you would think they were photos instead of artwork.
Linda's Scratchart Images

2000
If you're building a homepage this is a great site to visit. You'll find just about everything you need here. Midis, gifs, backgrounds, lines and bars, even a F-key saver loaded with many help and tool sites.
Puka's Hideaway
2000
April is a very talented friend of mine. Her site has holiday graphics, backgrounds, lines and bars an f-key saver and many e-mail pages that she's designed for webtv users to use in their sig boxes.
April Dawn's Email Designs

2000
Here's another great site for everyone building a homepage. Emma has lines, backgrounds, midis and wavs, and loads of gifs for all holidays.
Holidaze With Emma